| | |
| --- | --- |
| The Triangle Go Group | Staying Connected for Over 50 Years |

Third Annual North Carolina State Go Championship Tournament
(and 20th Annual Memorial Tournament)
Saturday, September 25 and Sunday, September 26, 2021,
at Shelter #2 in Umstead State Park, northwest Raleigh, North Carolina.


The North Carolina State Go Champion will be determined in a 2 day tournament on September 25 and 26, 2021, at Umstead State Park in north Raleigh. Competitors from across North Carolina will vie for the title, with prizes and trophies awarded in multiple divisions. The State Go Champion wins a cash prize along with 2 trophies. One of the trophies will be permanently awarded; the other is a traveling trophy awarded to successive state champions. The North Carolina State Champion must be an amateur go player who has resided in North Carolina at least 50% of the past year. Students meeting these criteria are eligible.

The location of the Tournament is Umstead State Park, shelter #2 at the Reedy Creek entrance to the park. To get to the Reedy Creek entrance coming from Durham, take I-40 to exit 287 (Cary/Harrison Ave) and turn left onto N. Harrison Ave, crossing the I-40 overpass. The Reedy Creek entrance is less than 1/4 mile. To get to the Reedy Creek entrance coming from Raleigh, take I-40 to exit 287 (Cary/Harrison Ave) and turn right onto N. Harrison Ave. The Reedy Creek entrance is less than 1/8 mile. After you enter the parking area, continue straight into the area to the far right corner (see image at left). The shelter is located about 20 yards south of the parking lot. We will have signs posted to help you locate the site. The location is on the Cary side of Umstead Park and is accessible via I-40 to Harrison Avenue. Do not use the Umstead entrance on US Hwy 70. There is no connection to the Reedy Creek entrance from US Hwy 70.
PREREGISTRATION IS REQUIRED for first round pairing. To participate in the first round you must register before 6:00 PM Friday, September 24th. After successfully completing this online form you should receive an email message confirming your registration, so please enter your email address correctly. If you do not receive a confirmation email within 30 minutes, please email Bob to confirm your registration. Check in begins Saturday morning at 8:40 AM, and the first round will begin at 9:15. The tournament will likely be finished each day by 5:00 PM.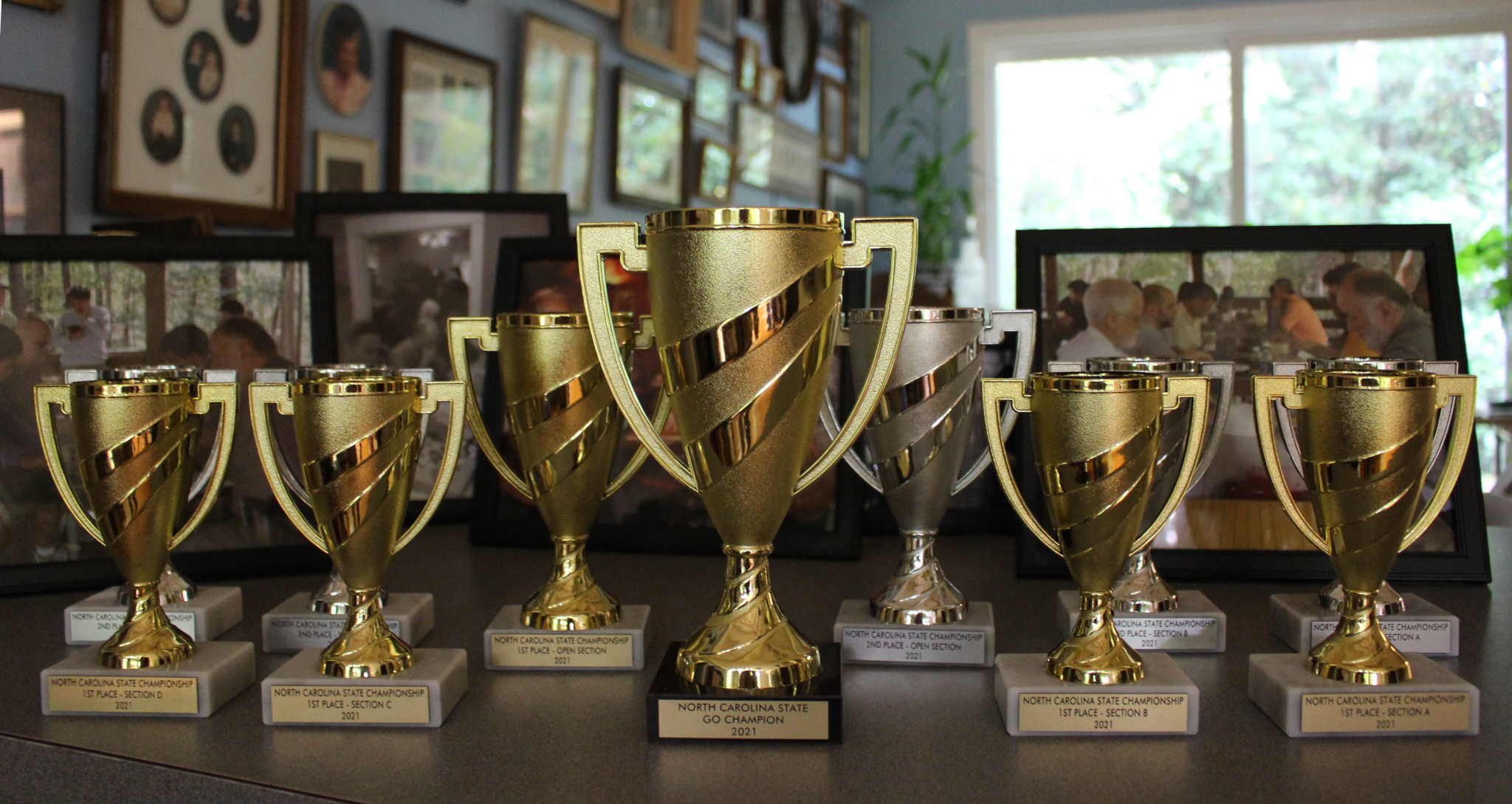 Jeff Kuang will be serving as the Tournament Director. The tournament will consist of 6 rounds of play, with 3 games on Saturday and 3 games on Sunday. Time settings will be 1 hour main time, with 5 byo-yomi periods of 30 seconds each. This is an AGA rated tournament. You must be an AGA member to play. Please be sure you have a current membership or renew via the web at USGO.org before the tournament begins.
Current AGA members enter at their actual AGA ratings. Unrated entrants will be assigned a temporary rating after review by a strong player. Unrated players will be paired at the sole discretion of the Tournament Director, Jeff Kuang.
Handicaps will be determined by the pairing software, but should generally follow the formula used in the self-paired tournament at the US Go Congress based on difference of rating, e.g. 7.5 points komi for ratings difference of 0.6 or less, 0.5 points komi for difference of 0.6 to 1.5, 2 stones handicap for difference of 1.6 to 2.5, 3 stones for difference of 2.6 to 3.5, etc. The open section will be different, with most games played without handicap. Ties for State Champion and ties for other bands will be resolved by SOS scores.
Entry costs are $25 for adults and $15 for youths and students. You may register for one or two days of play, and if you limit yourself to one day the entry costs are $15 for adults and $10 for youths and students. Please renew your AGA membership online before the tournament. You must be a current AGA member to participate. AGA membership or renewal forms will be available at the tournament but all fees must be paid before you can play. Please see the AGA website for information on AGA membership prices and their online form for new registrations or renewals. There will be generous cash prizes in all sections, with all entry fees returned as prizes.
Participants must attend both days to be eligible for prizes.
Since this is an open-air tournament, COVID risks are reduced. However, we will provide masks and hand sanitizer and encourage players to use them. Players older than 12 years old must be vaccinated to participate.
Lunch will be provided onsite on Saturday and Sunday, courtesy of the Triangle Go Group.
The tournament was a great success!
Details and photos will be made available on this website within a few days (by 9/31/21).
Thank you to all participants!