| | |
| --- | --- |
| The Triangle Go Group | Staying Connected for Over 50 Years |
Burning Board 2023!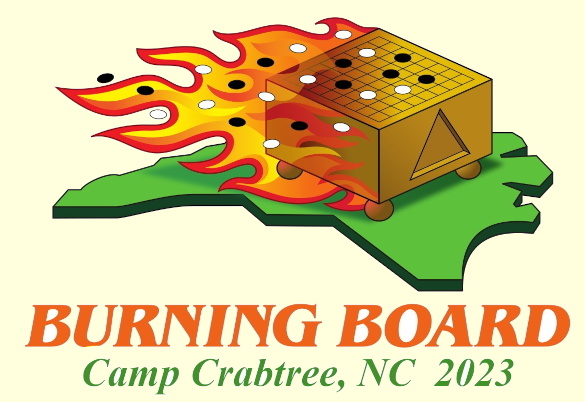 Burning Board Go Festival is a great chance to benefit from multiple workshops with professional teachers, reconnect with your fellow go players and immerse yourself in Go for 4 (or more) days in a beautiful natural setting at an inexpensive cost.

The event will be June 12 through June 18, 2023, with the main tournament and workshops beginning June 15, at Camp Crabtree in Umstead State park in Raleigh, North Carolina. There will be six long tournament games with lectures and workshops after the games. Self-paired games may be played anytime, Monday through Sunday. All tournament games will be AGA-rated, and the self-paired games may be rated if both players consent. There will also be a Saturday night bonfire and celebration. The goal is to have workshops and tournament games in a fun, festive, outdoor setting.

Workshops and game reviews will be conducted by renowned teacher and author Yuan Zhou on Thursday, Friday and Saturday as well as Sunday morning. Participation in these workshops alone is worth much more than the price of admission.

And it keeps getting better! We learned on May 11th that South Korean Go teacher Eunkyo Do 1P will be attending our event and will be providing even more workshops, lectures, simuls and game reviews.

Lunch will be provided on Thursday, Friday and Saturday. Registrants are responsible for all other meals. There are numerous outdoor grills available for use, as well as a full mess hall kitchen. There are also a number of restaurants and grocery stores within a few miles of the park.

Any participant under the age of 18 must be accompanied by an adult.

Participants are encouraged to camp onsite. We have 17 primitive cabins available. These cabins can sleep from two to four people, but do not have water, electricity, air conditioning, or any linens. Only 4 cabins are available for single occupancy or 2 day stays. There is also one large cabin which will accommodate up to 8 campers in one room, hostel or dormitory style. Cabin campers should bring bedding or sleeping bags and flashlights. Camp Crabtree will be available to us at 3 PM on Monday, June 12, and early arrivals are welcome although scheduled activities won't begin until Thursday, June 15. Cabins do not have locks, so please either don't bring valuables, lock valuables in your car or carry them with you at all times. There is ample parking for campers and commuters (non-campers) and the site is available from 3 PM Monday through noon Sunday.

The number of participants (players and non-players) is limited to 60, and registration will be closed after reaching that number so register early.

We have a Facebook Event page at https://www.facebook.com/events/1292726327979885/ to facilitate carpool and cabin partnering ideas. We will also use this Facebook page to make announcements before and during the event.

View photos from the 2022 Burning Board Festival.

Schedule: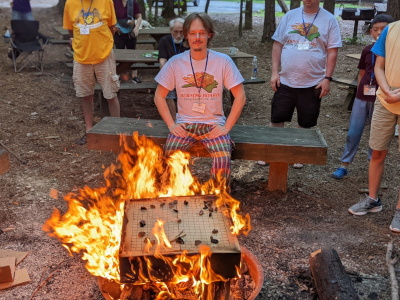 Check-in for cabin campers from 3 PM until 6 PM, Monday, June 12 through Wednesday, June 14. Two day campers check-in by 6 PM Friday.
Commuters should check-in via email before 6 PM Wednesday, June 14, and arrive onsite by 8 AM Thursday, June 15.
The main tournament will consist of two long games a day on Thursday, Friday, and Saturday.
Lectures and/or workshops will be from 4:00 to 8:30 PM Thursday and Friday, with a one hour break for dinner, and Saturday from 4:00 to 8:00. On Sunday there will be a morning lecture from 9 to 11 AM.
An awards ceremony will be at 8 PM Saturday night, with a celebratory bonfire afterwards. All non-campers must leave the park by 9pm.
Self-paired games may be played at any time. Both players must complete and sign a self-paired reporting sheet if rated.
Campers must have everything cleaned up and leave the campsite by 1 PM Sunday.
Park Details:
The location is Camp Crabtree in Umstead State Park, Raleigh, NC, at the Crabtree entrance to the park. To get to the Crabtree entrance coming from Durham, take I-40 to exit 283 (I-540) and follow I-540 east 4 miles to exit 4A (US 70). Drive south on US 70 for 1.5 miles, and the Crabtree entrance will be on your right. To get to the Crabtree entrance coming from Raleigh, take US 70 north from I-440 exit 7. Drive north 6 miles, and turn left into the Crabtree entrance. After you enter the park, follow the signs to arrive at Camp Crabtree, about 2.5 miles into the park. Please check in upon arrival. Do not use the Reedy Creek Umstead entrance on I-40. There is no direct connection to Camp Crabtree from the Reedy Creek entrance off of I-40. The park is 10 minutes from RDU International Airport and 20 minutes from an Amtrak station in Cary, North Carolina. Camp Crabtree is a group campsite in the center of Umstead state park. The main playing area and mess hall is a large room with numerous windows. There is no air-conditioning, but windows will be open and fans operating to circulate outdoor air. Average temperatures in June in Raleigh are a high of 86F and an overnight low of 66F. No pets are allowed at Camp Crabtree, and alcohol is not permitted in the park. View a map highlighting the path to Camp Crabtree (opens in a new window).
Other activities:
Hiking
Mountain/gravel biking at least 20 miles of trails (including a bike trail through the park to the fabulous North Carolina Art Museum and network of Raleigh city greenway trails).
Canoeing
Swimming in the lake. Warning: there are no lifeguards. Attendees are responsible for their own water safety.
20 minutes from three walkable downtowns (Durham, Raleigh, and Cary).
5,600 acres of forest to explore, including lakes and streams
NOTE: The campground gates are closed at 9PM. You cannot enter or leave after 9PM except in the case of a medical emergency.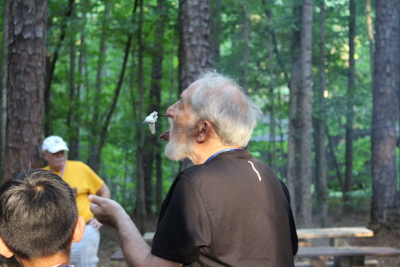 Requirements to participate:
Complete the registration and payment by June 5, 2023.
Current AGA membership required for tournament participation. Please update your AGA membership online at www.usgo.org.
Participants must play all 6 tournament games to be eligible for prizes.
Full Covid vaccination of all participants over 12 years of age is required.
Since this is an open-air tournament, COVID risks are reduced. However, we will provide masks and hand sanitizer and encourage players to use them.
Accommodations/amenities:
There are two separate buildings for showers and bathrooms on the site. Camp Crabtree can accommodate 60 people total. Tents are not allowed at the camp Crabtree site, but there is a tent camping area in Umstead State Park about 2.5 miles from the playing area. For cabins at Camp Crabtree, use the Burning Board registration website at https://www.trianglegoclub.org/php_uploads/registformbb23.php when you register for the event. To reserve tent sites in Umstead, use the Umstead State park website.
Lunch will be provided June 15, 16 and 17. A large kitchen mess area is available for use mornings and evenings, but keep it clean! There are also outdoor grills available. Campers should bring in their own food for breakfast and dinner as there might not be enough time to leave the site for breakfast and dinner.
Site will be available beginning after 3 PM on Monday, 6/12. Self-paired rating games may be played at any time.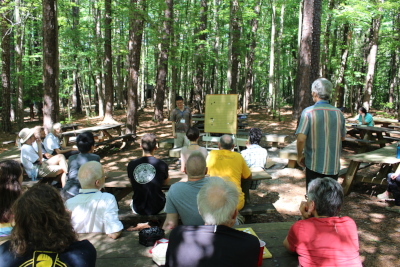 There are many hotels close to the camp, such as:
Residence Inn Raleigh
Best Western Plus Raleigh Crabtree Valley Hotel
Fairfield Inn & Suites by Marriott Raleigh-Durham Airport/Brier Creek
Fees:
Tournament and Workshops Fee: $140 for all four days.
Youth registration for those 21 and younger, 4 days: $80.
Nonplayer registration for 4 days: $50.
Tournament and Workshops Registration Fee for 2 days (Saturday and Sunday): $80.
Youth registration for 2 days (Saturday and Sunday): $50.
Nonplayer registration for 2 days (Saturday and Sunday): $30.

Share a cabin with up to 3 others for $15 per day, $60 for the week (Monday through Saturday nights)
Share a cabin with up to 3 others for $15 per day, $40 for two nights (Friday and Saturday nights)
Private cabin with only 1 occupant for $60 per day, $240 for the week (Monday through Saturday nights)
Private cabin with only 1 occupant for $60 per day, $120 for two nights (Friday and Saturday nights)
Share a large cabin with 8 occupants in 1 room (no cots) for $10 per day, $40 for the week (Monday through Saturday nights)
Share a large cabin with 8 occupants in 1 room (no cots) for $10 per day, $20 for two nights (Friday and Saturday nights)

Tournament Details:
Devin Fraze will be the Tournament Director. The tournament will consist of 6 rounds of play, with 2 games Thursday, 2 games Friday and 2 games on Saturday. Time settings will be 1 hour main time, with 5 byo-yomi periods of 30 seconds each.
Current AGA members enter at their actual AGA ratings. Unrated entrants will be assigned a temporary rating after review by a strong player. Unrated players will be paired at the sole discretion of the Tournament Director, Devin Fraze.
Handicaps will be determined by the pairing software, but should generally follow the formula used in the self-paired tournament at the US Go Congress based on difference of rating, e.g. 7.5 points komi for ratings difference of 0.6 or less, 0.5 points komi for difference of 0.6 to 1.5, 2 stones handicap for difference of 1.6 to 2.5, 3 stones for difference of 2.6 to 3.5, etc. The open section will be different, with most games played without handicap. Ties will be resolved by SOS scores.
Please complete the registration form and either pay online or get a check to us before June 5th.


Questions? Email the webmaster, or the chapter representative.



Last update May 12, 2023