| | |
| --- | --- |
| The Triangle Go Group | Staying Connected for Over 50 Years |
North Carolina State Championship
and 21st Annual Memorial Go Tournament
September 17, 2022, at Umstead State Park in Raleigh, NC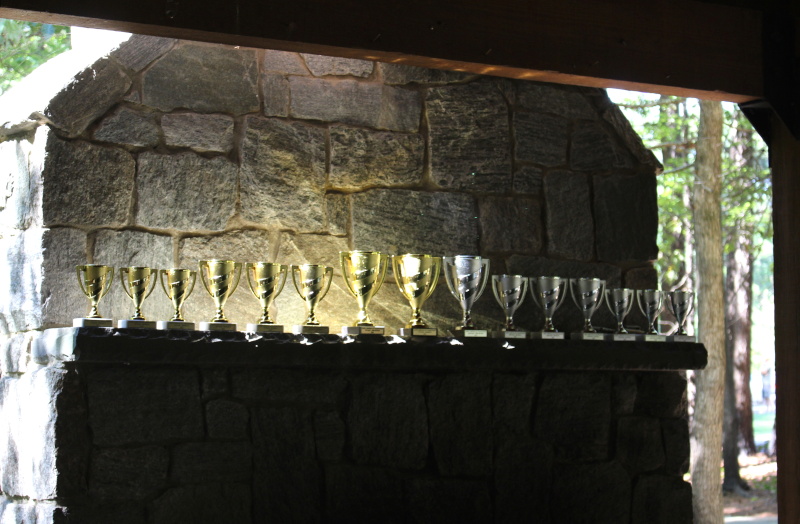 Thirty Go enthusiasts gathered on September 17, 2022 at Umstead Park, Raleigh, NC for the North Carolina Championship and 21st Annual Memorial Tournament. The weather was ideal and spirits were jovial as familiar and new friends competed for trophies and cash prizes.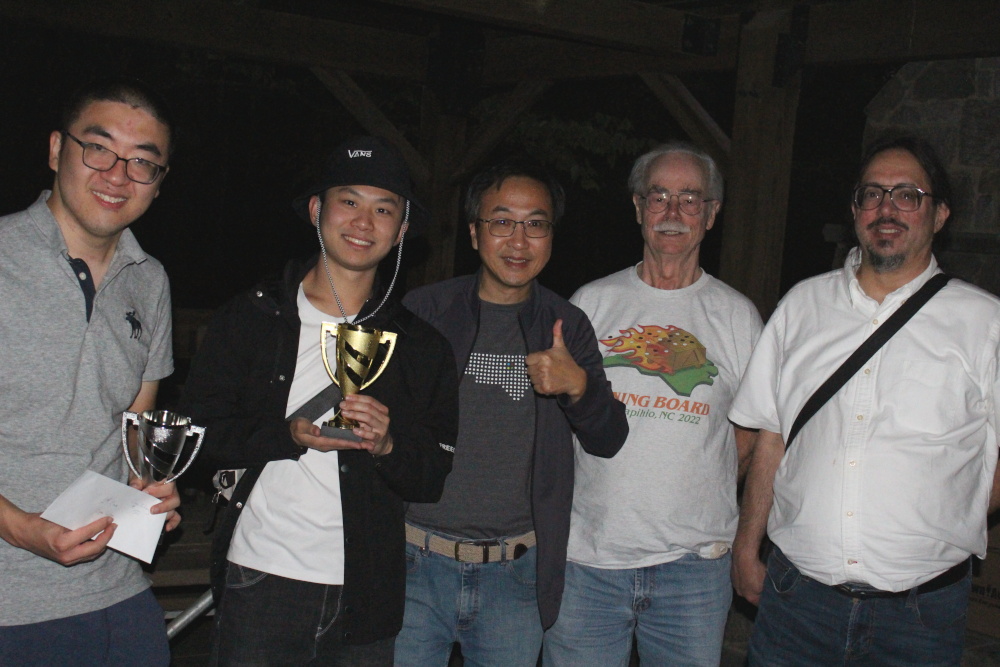 After 4 rounds of intense competition the open section (3 to 7 Dan) ended with 3 players winning 3 games and losing 1. SMS scores were used to declare the new North Carolina State Champion: Pengyu Guo.

First place in the open section was deemed to be Edward Zhang, with Chen Zhang securing 2nd place honors.

Section A (2 to 3 Dan) also had 3 ties at the top, and SMS scores determined 1st place honors for Suyoung Yoon, with Nianci Gan in 2nd place.

Section B (all 1 Dan) was clearly won by Xiaoping Wu, who posted a perfect record of 4-0. Second place was taken home by Florida visitor Dakota Krafick.

The winner of section C (1-3 Kyu) was Tao Mao with an impressive 3-1 score, with second place going to Paul Celmer.

6 to 9 Kyu comprised section D, which was handily won by Justin Su, who posted the only other perfect 4-0 record of the day. Ben Parrot was named for 2nd, although later review suggests that Yihui Shao earned that position and young Mr. Shao was awarded a trophy and cash prize after the event.

Section E (10-12 Kyu) had multiple ties, with the winner, Sky Wang, determined by SMS scores. Neal Siekierski was awarded 2nd place.
A magnificent lunch was prepared and presented by Arlene Bridges with assistance from Russell Herman. The Tournament was smoothly run by Tournament Director Jeff Kuang.
A grid of all players, their records and results of each round appear below. Photos from the tournament are posted here.
Entrants
AGA Rating
AGA ID
Wins
Losses
Chen Zheng
7D
25610
3
1
Edward Zhang
6D
14906
3
1
Pengyu Guo
6D
26070
3
1
Jeff Kuang
4D
13845
0
3
Suyoung Yoon
3D
23325
2
2
Nianci Gan
3D
14403
2
2
Sheng(Thomas) Huo
3D
24076
2
2
Chen Yuan
3D
24599
2
2
Ji Wen
3D
24602
0
3
Joshua Guarino
2D
12197
1
3
Xiaoping Wu
1D
13472
4
0
Dakota Krafick
1D
26081
3
1
Boris Bernadsky
1D
13734
2
1
Thomas Bitonti
1D
3540
2
2
Leroy Anderson
1D
22924
1
3
Tao Ma
1K
23534
3
1
Paul Celmer
1K
4910
2
2
Masanari Parker
2K
17160
1
3
David Fruchtenicht
2K
2609
2
2
Justin Blank
3K
13891
2
2
Bob Bacon
6K
11286
2
2
Ben Parrott
6K
22897
1
3
Tom Roncoli
7K
22607
1
3
Justin Su
9K
21377
4
0
Yihui Shao
9K
25980
2
2
Daniel Chiquito
9K
22928
1
3
Sky Wang
10K
23870
2
2
Neal Siekierski
10K
25939
2
2
Russell Herman
11K
2776
2
2
Eric Lin
15K
25971
1
3

Round One
White
Black
Winner
Handicap
Komi
Jeff Kuang
Chen Zheng
B
0
7
Edward Zhang
Pengyu Guo
W
0
7
Nianci Gan
Suyoung Yoon
B
0
7
Joshua Guarino
Ji Wen
W
0
7
Sheng(Thomas) Huo
Chen Yuan
W
0
7
Leroy Anderson
Xiaoping Wu
B
0
7
Boris Bernadsky
Dakota Krafick
B
0
7
Thomas Bitonti
Paul Celmer
W
0
7
Tao Ma
David Fruchtenicht
W
0
7
Masanari Parker
Justin Blank
W
0
7
Bob Bacon
Ben Parrott
W
0
7
Tom Roncoli
Yihui Shao
W
0
0
Justin Su
Daniel Chiquito
W
0
7
Neal Siekierski
Sky Wang
B
0
7
Russell Herman
Eric Lin
W
3
0

Round Two
White
Black
Winner
Handicap
Komi
Chen Zheng
Edward Zhang
W
0
7
Pengyu Guo
Sheng(Thomas) Huo
W
0
7
Suyoung Yoon
Jeff Kuang
W
0
7
Ji Wen
Nianci Gan
B
0
7
Chen Yuan
Joshua Guarino
W
0
7
Dakota Krafick
Thomas Bitonti
W
0
7
Xiaoping Wu
Tao Ma
W
0
7
Leroy Anderson
Boris Bernadsky
B
0
7
Paul Celmer
Masanari Parker
W
0
7
Justin Blank
David Fruchtenicht
W
0
7
Tom Roncoli
Bob Bacon
B
0
7
Ben Parrott
Justin Su
B
0
0
Yihui Shao
Russell Herman
W
0
7
Sky Wang
Daniel Chiquito
W
0
7
Neal Siekierski
Eric Lin
W
4
0

Round Three
White
Black
Winner
Handicap
Komi
Chen Zheng
Pengyu Guo
B
0
7
Edward Zhang
Suyoung Yoon
W
0
7
Chen Yuan
Jeff Kuang
W
0
7
Sheng(Thomas) Huo
Nianci Gan
B
0
7
Xiaoping Wu
Ji Wen
W
0
7
Joshua Guarino
Dakota Krafick
B
0
7
Boris Bernadsky
Thomas Bitonti
W
0
7
Masanari Parker
Leroy Anderson
B
0
7
Tao Ma
Paul Celmer
W
0
7
David Fruchtenicht
Ben Parrott
W
3
0
Justin Blank
Bob Bacon
W
0
0
Tom Roncoli
Justin Su
B
0
7
Sky Wang
Yihui Shao
B
0
7
Russell Herman
Neal Siekierski
B
0
7
Daniel Chiquito
Eric Lin
W
5
0

Round Four
White
Black
Winner
Handicap
Komi
Suyoung Yoon
Chen Zheng
B
0
7
Nianci Gan
Edward Zhang
B
0
7
Pengyu Guo
Chen Yuan
W
0
7
Sheng(Thomas) Huo
Joshua Guarino
W
0
7
Dakota Krafick
Xiaoping Wu
B
0
7
Thomas Bitonti
Masanari Parker
W
0
7
Tao Ma
Leroy Anderson
W
0
7
Paul Celmer
Justin Blank
W
0
7
David Fruchtenicht
Bob Bacon
W
0
0
Ben Parrott
Tom Roncoli
W
0
7
Justin Su
Neal Siekierski
W
0
0
Yihui Shao
Eric Lin
B
7
0
Daniel Chiquito
Russell Herman
B
0
0