| | |
| --- | --- |
| The Triangle Go Group | Staying Connected for Over 50 Years |
North Carolina State Championship
and 22nd Annual Memorial Go Tournament
September 30, 2023, at Umstead State Park in Raleigh, NC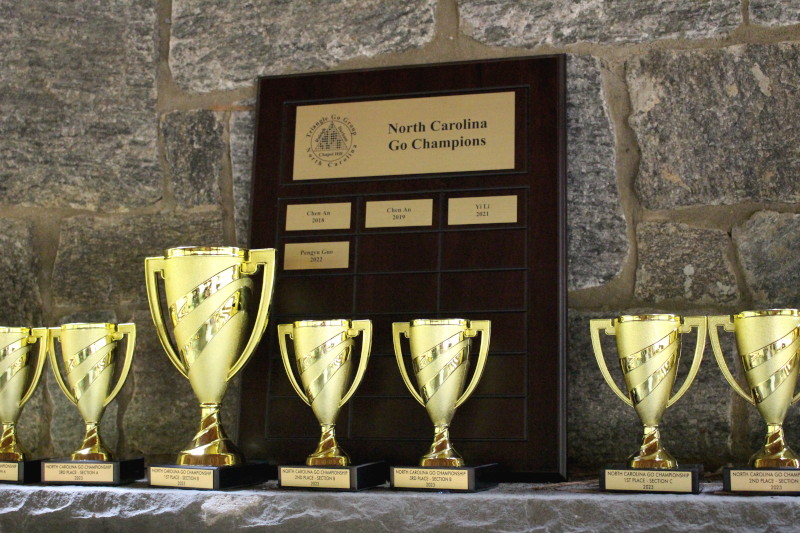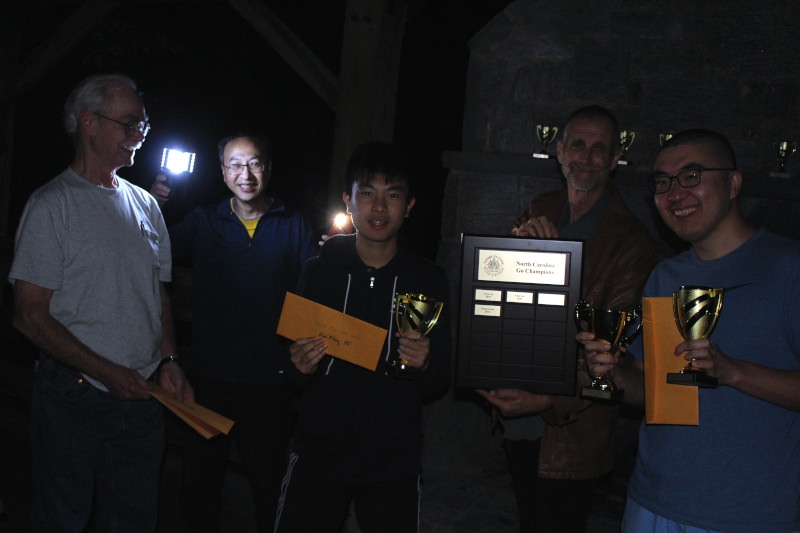 An enthusiastic group of 23 Go aficionados convened in Umstead State Park, Raleigh NC on Saturday, September 30th, for a day of games and camaraderie. Skill levels ranged from beginners to 6 Dans, with almost half rated shodan or higher.
Chen Zhang, 6 Dan, was the only undefeated contestant and was awarded the title of North Carolina Go Champion 2023. Second place in the open section was seized by rising star Huo Sheng. The very competitive Section A had almost all players ending with a 2 win and 2 loss record, so SMS scores were employed to name Josh Guarino first and Brian Wu second. First place in Section B was clearly claimed by Zack Garrett, followed closely by Paul Celmer in second. Ben Parrot's 3 win 1 loss history topped the others in Section C, with Andrew Thieman coming in second. Steadily improving Neal Siekierski's 3-1 performance clearly won section D, with Jeff Martyn in second. Lunch was provided onsite by Adam Bridges, courtesy of the Triangle Go Group, and Jeff Kuang performed admirably again as our Tournament Director. The event marked the 22nd year that the Triangle Go Group sponsored a major Autumn tournament.
A grid of all players, their records and results of each round appear below.
Entrants
Entry Rating
AGA ID
Wins
Losses
Chen Zhang
6D
25610
4
0
Edward Zhang
6D
14906
2
1
Sheng Huo (Thomas)
4D
24076
2
2
Jeff Kuang
3D
13845
2
2
Suyoung Yoon
3D
23325
1
3
Joshua Guarino
2D
12197
2
2
Brian Wu
2D
15452
2
2
Frank Salantrie
2D
2014
0
1
Thomas Bitonti
1D
3540
2
2
Xiaoping Wu
1D
13472
2
2
Paul Celmer
1K
4910
2
2
Zack Garrett
2K
15082
3
1
Adam Bridges
3K
9995
1
3
David Jakab
3K
30309
0
4
Bob Bacon
6K
11286
2
1
Andrew Thieman
7K
23749
2
2
Matthew Gregoire
7K
25500
2
2
Ben Parrott
8K
22897
3
1
Neal Siekierski
9K
25939
3
1
Jeff Martyn
9K
16259
2
1
Don Nonini
14K
15693
0
3
Yi Cai
16K
99999
1
1
Yueqi Wang
18K
30404
1
2

Round One
White
Black
Winner
Hdcp
Komi
Chen Zhang
Sheng Huo
W
0
7
Edward Zhang
Suyoung Yoon
W
0
7
Frank Salantrie
Jeff Kuang
B
0
7
Joshua Guarino
Brian Wu
W
0
7
Thomas Bitonti
Xiaoping Wu
W
0
7
Zack Garrett
Paul Celmer
W
0
7
Adam Bridges
David Jakab
W
0
7
Andrew Thieman
Matthew Gregoire
W
0
7
Ben Parrott
Jeff Martyn
W
0
7
Neal Siekierski
Don Nonini
W
4
0
Yi Cai
Yueqi Wang
W
0
0

Round Two
White
Black
Winner
Hdcp
Komi
Chen Zhang
Edward Zhang
W
0
7
Jeff Kuang
Sheng Huo
W
0
7
Suyoung Yoon
Joshua Guarino
B
0
7
Brian Wu
Thomas Bitonti
W
0
7
Paul Celmer
Xiaoping Wu
B
0
7
Adam Bridges
Zack Garrett
B
0
7
David Jakab
Bob Bacon
B
2
0
Andrew Thieman
Ben Parrott
B
0
7
Matthew Gregoire
Neal Siekierski
B
0
7
Jeff Martyn
Yi Cai
W
5
0
Don Nonini
Yueqi Wang
B
3
0

Round Three
White
Black
Winner
Hdcp
Komi
Jeff Kuang
Chen Zhang
B
0
7
Sheng Huo
Joshua Guarino
W
0
7
Suyoung Yoon
Thomas Bitonti
W
0
7
Xiaoping Wu
Brian Wu
B
0
7
Zack Garrett
David Jakab
W
2
0
Paul Celmer
Adam Bridges
W
0
7
Bob Bacon
Andrew Thieman
B
0
7
Neal Siekierski
Ben Parrott
B
0
7
Matthew Gregoire
Don Nonini
W
6
0
Jeff Martyn
Yueqi Wang
W
8
0

Round Four
White
Black
Winner
Hdcp
Komi
Neal Siekierski
Andrew Thieman
W
0
7
Joshua Guarino
Chen Zhang
B
0
7
Edward Zhang
Jeff Kuang
W
0
7
Brian Wu
Sheng Huo
B
0
7
Xiaoping Wu
Suyoung Yoon
W
0
7
Thomas Bitonti
Zack Garrett
W
0
7
Paul Celmer
David Jakab
W
0
0
Adam Bridges
Bob Bacon
B
2
0
Ben Parrott
Matthew Gregoire
B
0
7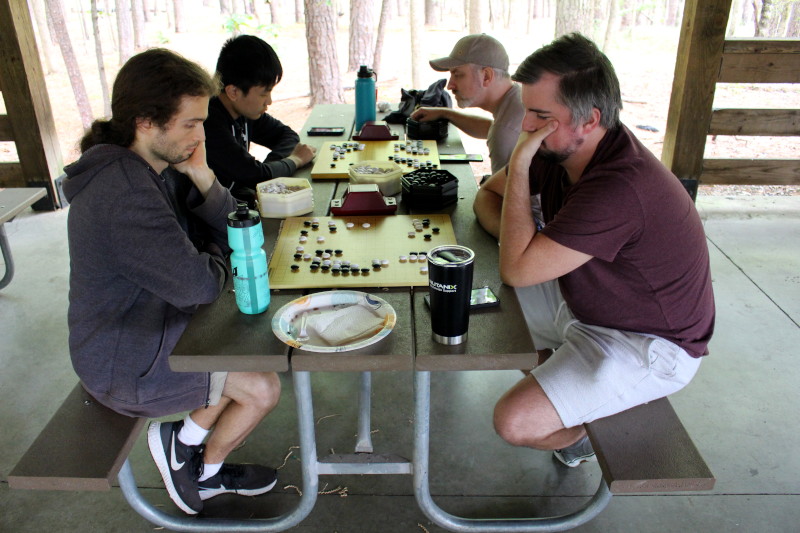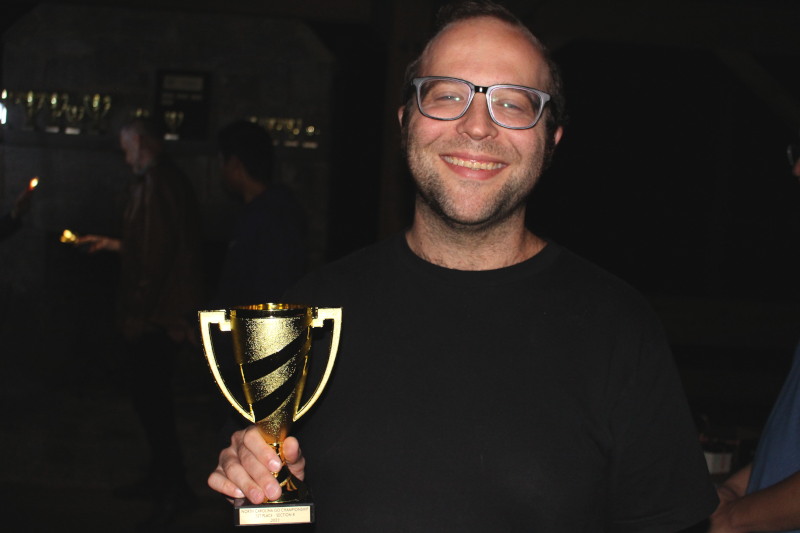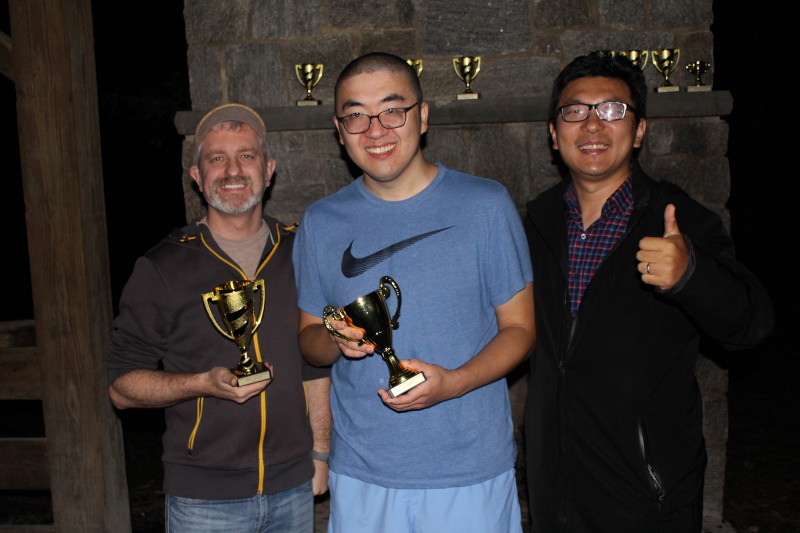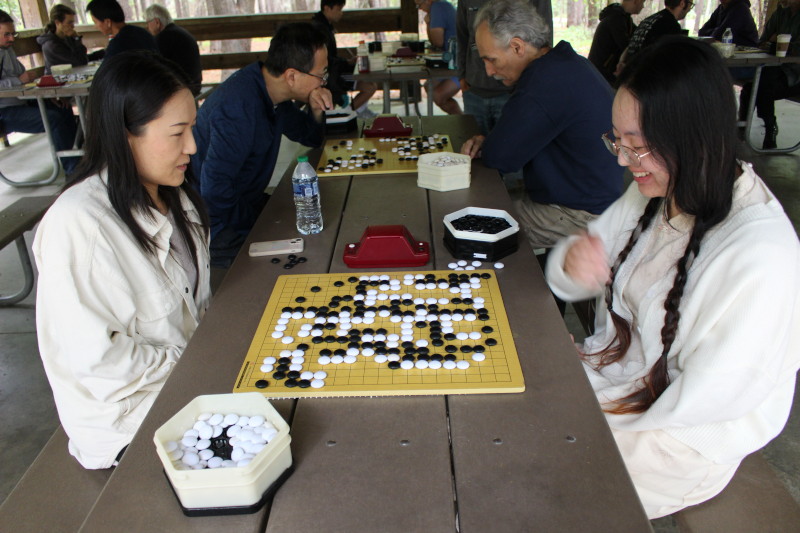 Return to home page